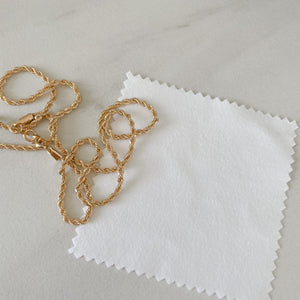 Use our jewelry polishing cloth help remove minor scratches and tarnish on silver, gold, and platinum jewelry pieces. One complimentary jewelry polishing cloth is included in every order. Purchase for additional polishing clothes.
DETAILS
Made of suede fabric. 
Non-color fading and non toxic.

8cm x 8cm (3.15inch*3.15inch)
*note: the black marks that comes out on the cloth when polishing your jewelry is NOT dirt or metal that is transferred. The black marks on the cloth simply means that the cloth was activated by the rubbing. So it means it's doing what it's supposed to do!